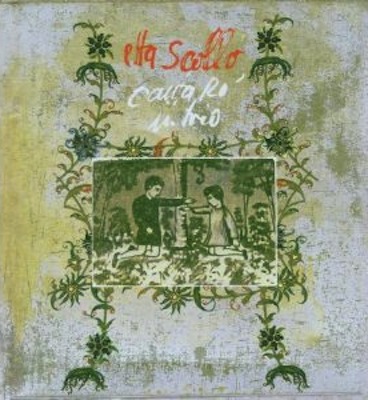 Year: 2006 Label: Premium Records PRE 007 – 

Soulfood Music Distribution GmbH
Actually, I hadn`t intended to produce a second Rosa Balistreri album. Especially not to a large extent with the same songs as the first and in such a reduced form, constantly searching for an equilibrium between the strings of a fiddle and blowing into a shell-trumpet. My audiences requested this CD of me, audiences as different as the places where we found a stage to perform our Rosa Balistreri concerts. A journey which began between the four walls of a practice room, where we played the songs differently again and again, searching with this or that instrument from the many that Frank Wulff and Hinrich Dageför were skilled with for the right sound until, for instance, we found the correct tone for the prelude to the last track "Quannu moru" in a simple glass of water. Not the demands, nor the challenge – only the play and the irony of coincidence which smuggles itself in secretly would become music. And perhaps that is why the word play in German and English is ambiguous and also refers to music. And perhaps in fact it is this "playing with the sound" which has created an indefinable distance between this recording and the symphonical form of the previous CD and to the sobriety and intimity which belongs to Rosa alone. So, along with us playing and "playing", travelling and working our audiences have grown from clubs to theatres up to open air concerts, always with the same wish: to be able to hear the concert again, on a live CD. I have consciously chosen recordings from two locations: the Courtyard of the Palazzo Di Lorenzo in Gibellina and the "Tipi" in Berlin: On these occasions my brother Sebastiano spontaneously added his valuable contribution with the Renaissance Lute (alongside of which we could both finally live out our longtime wish to play together) and that of my friend and trombonist Ferdinand von Seebach who also arranged a few songs for the previous "Canta Ro´!" production with the Orchestra Sinfonica Siciliana. Rosa performed in Gibellina after the place had been completely destroyed in 1968 by an earthquake. She remembered this later as one of the most intensive concerts of her career. The "Istituto di Alta Cultura della Fondazione Orestiadi" has now for many years here represented an emblematic location for the culture and art of Sicily, a location at which the rememberance of a dramatic history is becoming a driving force for the future. Large, multi-cultural Berlin on the other hand has become my "adoptive" city, and represents the present and the future for me, as well as for countless other citizens of the world. These two poles of europe reflect my history; in the singing and telling of Rosa and the Sicily that I have experienced, I wish that Rosa will never again be forgotten – and Sicily no longer be an isolated island.
Etta Scollo
TRACKLIST (lyrics) QUANTU BASILICÒ (QUANTO BASILICO) (03.26) L'ANATRA (03.54) SIGNURUZZU (OH SIGNORE) (04.01) CU TI LU DISSI (CHI TE LO HA DETTO) (03.29) MUCCATURI (IL FAZZOLETTO) (04.30) U CUNIGGHIU (IL CONIGLIO) (04.22) NTRA VIDDI E VADDI (TRA VILLE E VALLI) (03.38) I PIRATI A PALERMU (I PIRATI A PALERMO) (04.29) TRABIA (03.37) OLIOLÀ (03.09) LU LIBRRU (IL LIBRO) (03.55) NTA LA VICARIA (DENTRO LA VICARIA) (00.53) LU SULI (IL SOLE) (02.31) ROSA CANTA E CUNTA (ROSA CANTA E RACCONTA (04.47) QUANNU MORU (QUANDO MUOIO) (05.03) LIGGENNA (LEGGENDA DEL FLAUTO) (03.20) CANTU D'A CURUNA (CANTO DELLA CORONA) (04.57) RECITATIVO *QUANNU MORU (03.04) AMURI (AMORE) (04.18)