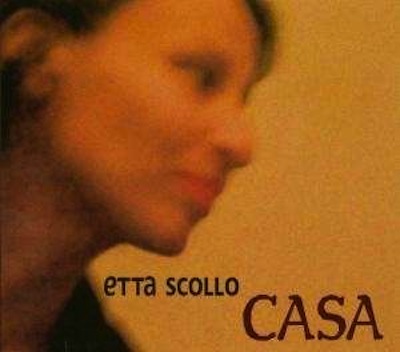 Year: 2003
Label: MON005 | LC07437
TRACKLIST
(lyrics)
IL RICORDO (04.40)
IL GIORNO PIÙ LUNGO (04.33)
IO CHE (03.05)
ASSENTE (04.24)
PIANO PIANO (05.43)
CHE COS'È IL CIELO (03.10)
CASA (03.39)
LAVA (02.51)
CRESCERE NON MI VA (02.59)
PER AMORE (04.53)
SUSPIRA (SOSPIRA) (03.25)
UNN'È (DOV'È) (05.05)
CREDITS
PLAYED BY THE ETTA SCOLLO BAND:
Frank Wulff: electric guitars, flutes, singing saw, nyckelharpa, hurdy-gurdy
Ferdinand v. Seebach: piano, tuba, trombones, toy piano, harmonium
Albert Vila: violoncello
Martin Druzella: drums
Johannes Huth: acoustic bass, double bass, e-bass
Etta Scollo: vocals, acoustic guitar and harp
SPECIAL GUESTS:
Sebastiano Scollo: renaissance lute in «Io che»
Hanno Kuhns: violoncello in «Casa» and «Assente»
Hinrich Dageför: chitarra elettrica in «Il ricordo»
Stefan Will: organo in «Che cos'è il cielo»
Jens Goldhardt: organo da chiesa in «Unn'è»
PRODUCED AND MIXED
Between April and Juli 2003 by BlackPete at Gismo7 (Motril / Spain)
RECORDED
by Daniel Bongard at Ultrashall, Voxklang, Ougenweide O'ton Studio and at Etta's home, except «Unn'è» (recorded by Oliver Bergner at St.Trinitatis Church, Sondershausen / Germany )
MASTERED
by Ronald Prent at Galaxy Studios (Mol / Belgium)
ARRANGEMENTS
by Etta Scollo
DIGITAL-EDITING
by Daniel Bongard and Etta Scollo
ADDITIONAL ARRANGEMENTS
by The Etta Scollo Band
TRANSCRIPTION
by Ferdinand v. Seebach
MUSIC AND WORDS
by Etta Scollo, except «Suspira» (lyrics of the song "Ciuriddi di lu chiano", by Rosa Balistreri and music by Giovanni Belfiore) and «Crescere non mi va» («I Don't Wanna Grow Up» scritta da T. Waits / K. Brennan and translated by Etta Scollo with kind permission of © Jalma Music and its sub-publisher for Italy, Warner Bros Music Italy srl.)
ALL SONGS PUBLISHED
by EMI Music Publishing, except «Crescere non mi va» and «Suspira».
PHOTOGRAPHY
by Palmieri, Micol Barichello, Etta Scollo and Peter Schmidt 
GRAPHICS AND LAYOUT CONCEPT
by Micol Barichello
Martin Druzella plays Meinl cymbals and Tama drums
MON005 | LC07437
© 2003 MONGEBEL a division of Pinpoint
Volker, Gisi e Geli, Raffaella e Paul, Sibilla e Olli, Andy, Jochen, Diana e Georg, Thomas e Sonja, Gesche Carstens, Walter Welke geb. Thielsch, Uta Petersen, Patrice Heral, Achim Franz, Chris von Rautenkranz, Beate Bogenhagen, Timo, Philip e Tillmann, Matthias Könneke, Lexi von Hoffmann, Martina, Ferdinand e Micol, Nici e la mia band (GRANDI!), "la mia famiglia" e tutti gli "amici e musicisti" che sono stati come a suonare e bere cappuccino, e condividere con me "la casa e l'avventura".